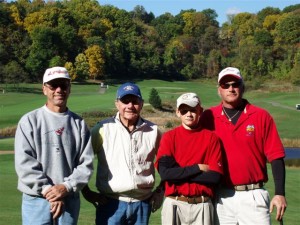 The Professional Staff at Oak Shadows Golf Club would love to assist your organization in the planning and implementation of a full service golf outing. We specialize in designing outings to meet and exceed customer expectations. The staff will set up the cart signs, scorecards, rules sheets, starting hole assignments, on course contests, record scores at the end of the round, and best of all… we do all of the cooking!
From groups ranging in size of 24 to 144, we truly look forward to hosting your organization. It will be an immense pleasure to provide a great golf and outing experience for your group. Some of the fantastic food options featured:
Famous "Oak" Strip Steak dinner
"The best steak I have ever had at a golf outing"
Strip Steak with special seasoning blend
Baked Potato or Potato Salad
Tossed Salad with assorted dressings
Bread/butter
Can Soda and water for the dinner
Includes 18 holes with a shared motor cart
---
Hamburger/Cheeseburger/Hot Dog
Hamburger/Cheeseburger featuring our special seasoning blend
Buns from Nickles Bakery
Baked Beans
Potato Salad or Macaroni Salad
Potato Chips, and condiments
Can soda and water for the dinner
Includes 18 holes with a shared motor cart
Beverages
Gatorade and Beer can be available for the cookout
We now have Beer sales seven days a week! Liquor and wine is available daily…and after 11:00 on Sundays.